Get extras for your product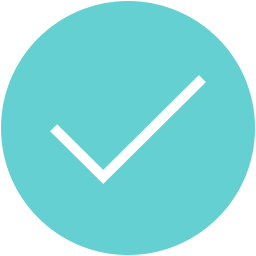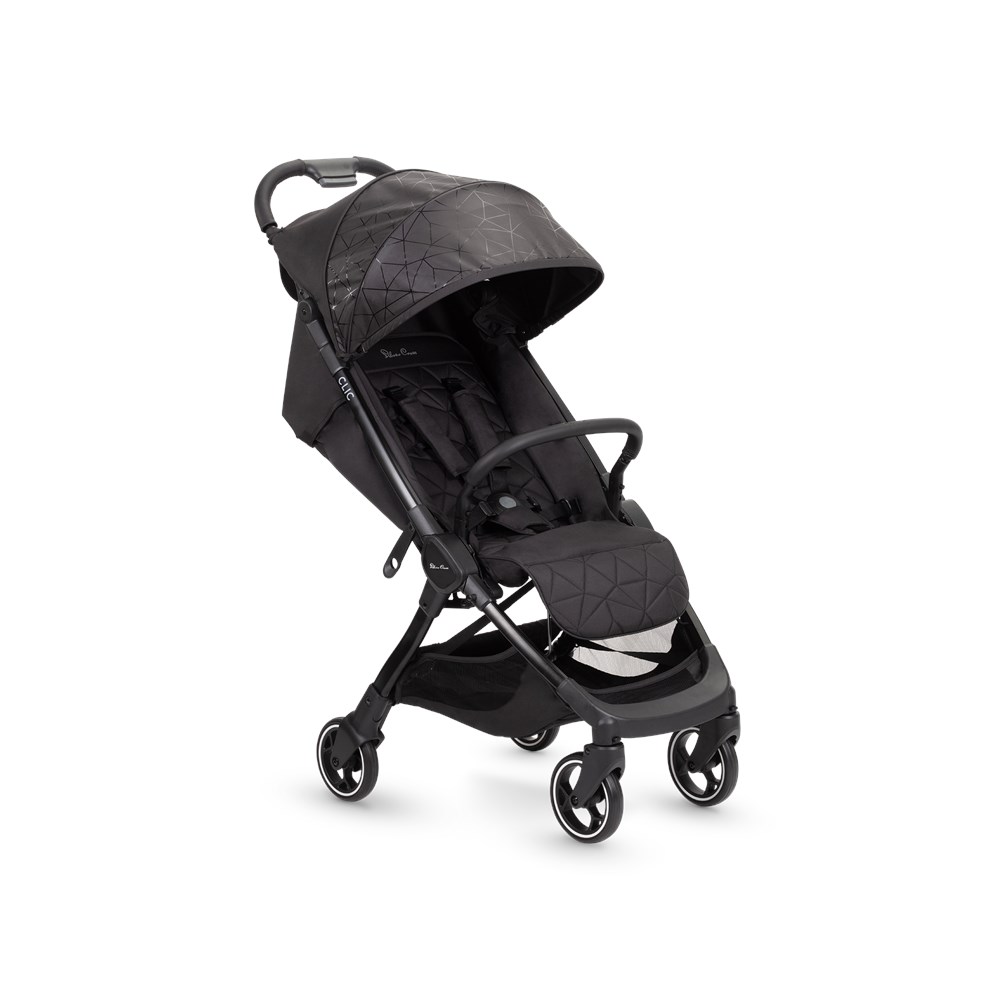 Clic Black (2022)
$499.00

YOU SAVED $!
Save 30% off your chosen accessories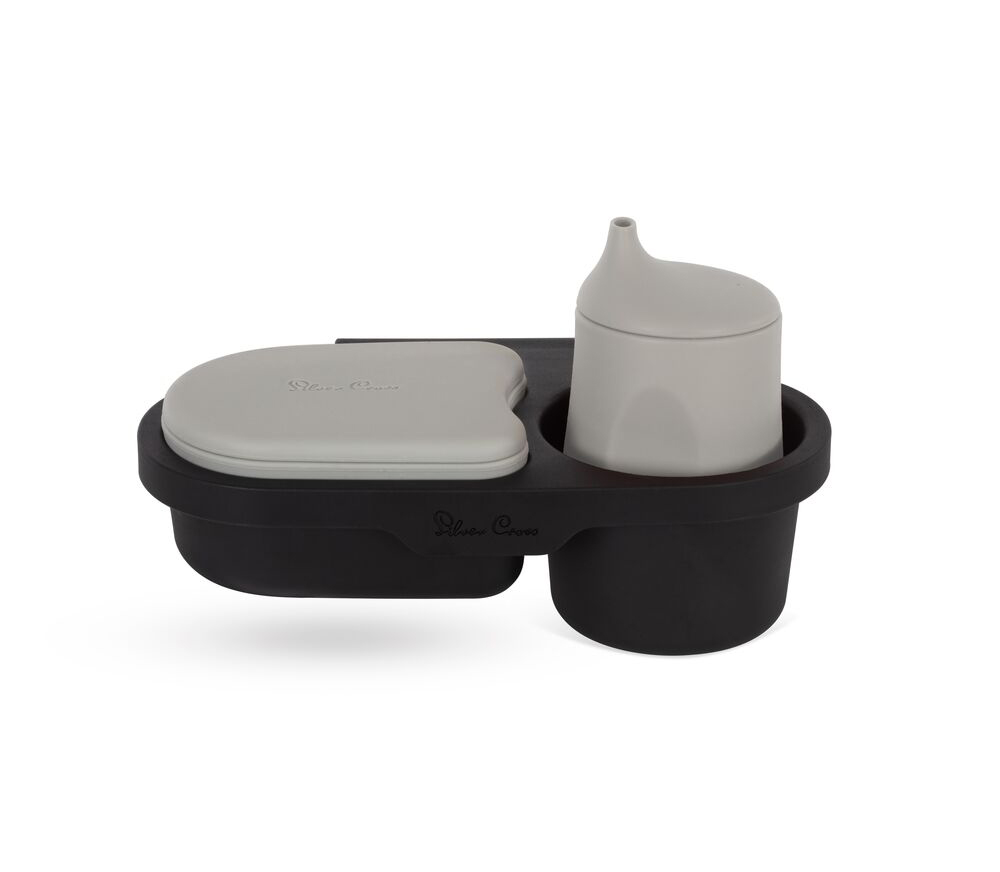 Snack Tray
$90.30
$63.21
Attach our convenient meal container set and snack tray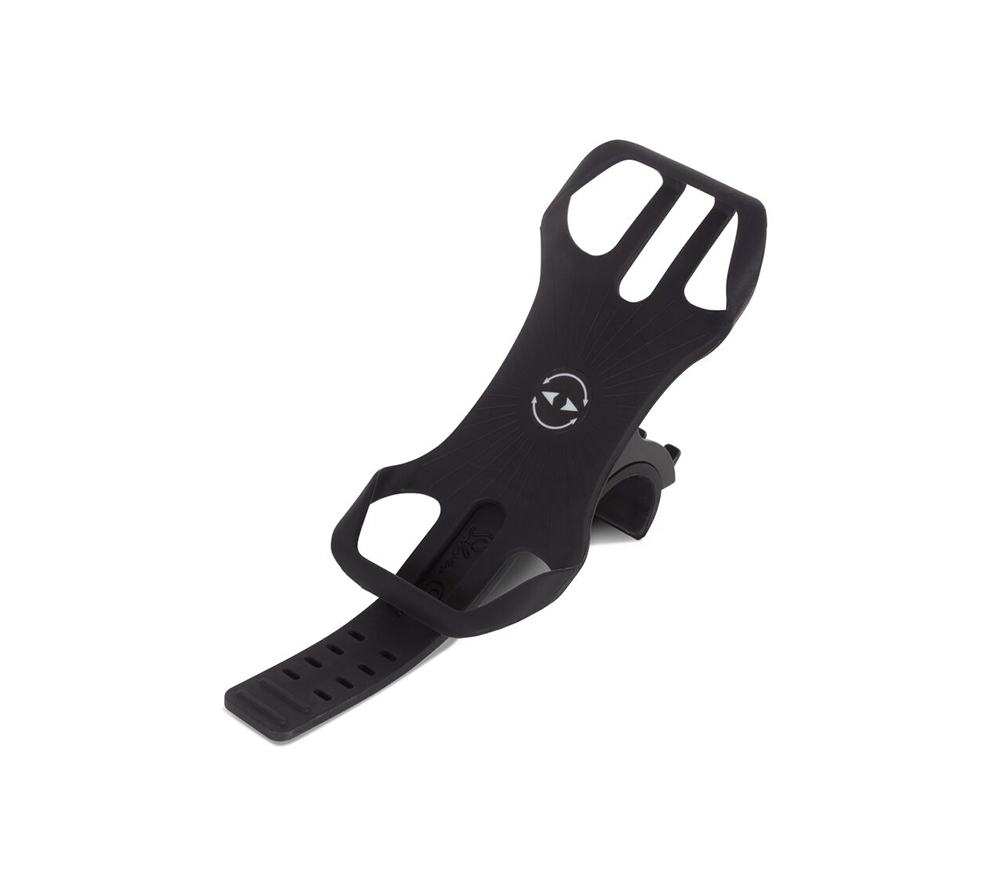 Phone Holder
$48.95
$34.27
Attachable phone holder for all Silver Cross prams and strollers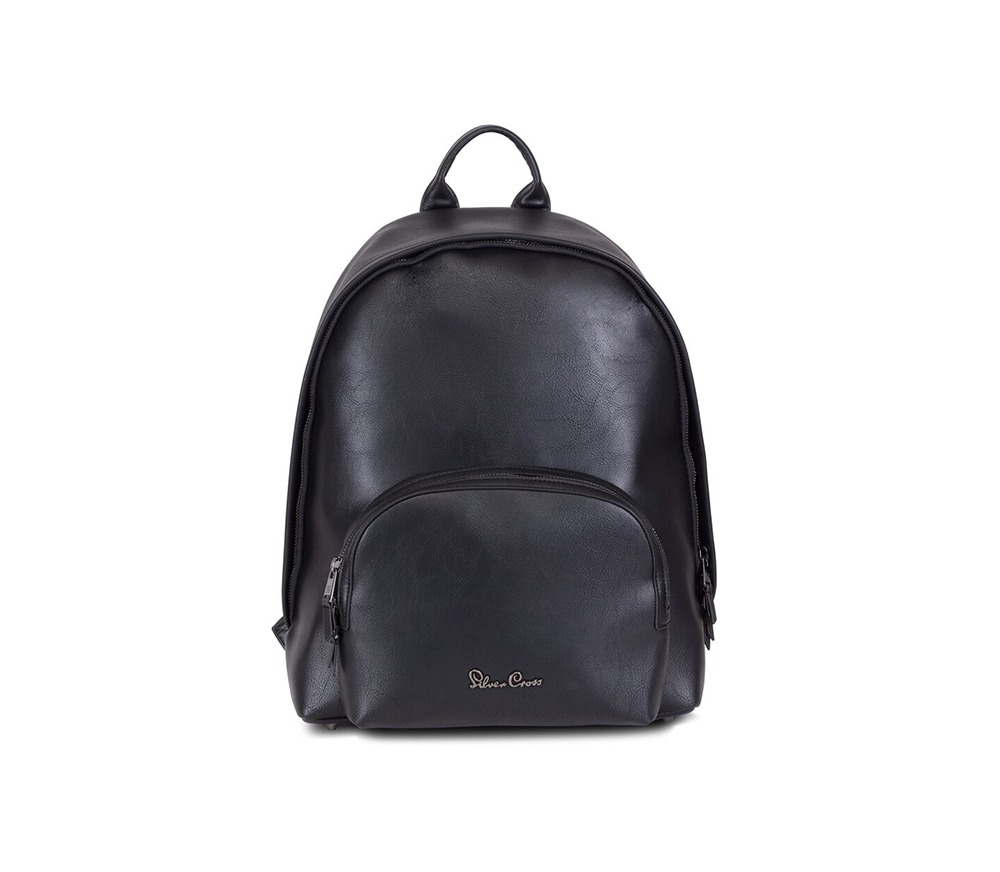 Changing Bag Backpack Black
$209.30
$146.51
Pair with a vegan leather black backpack for Dune/Reef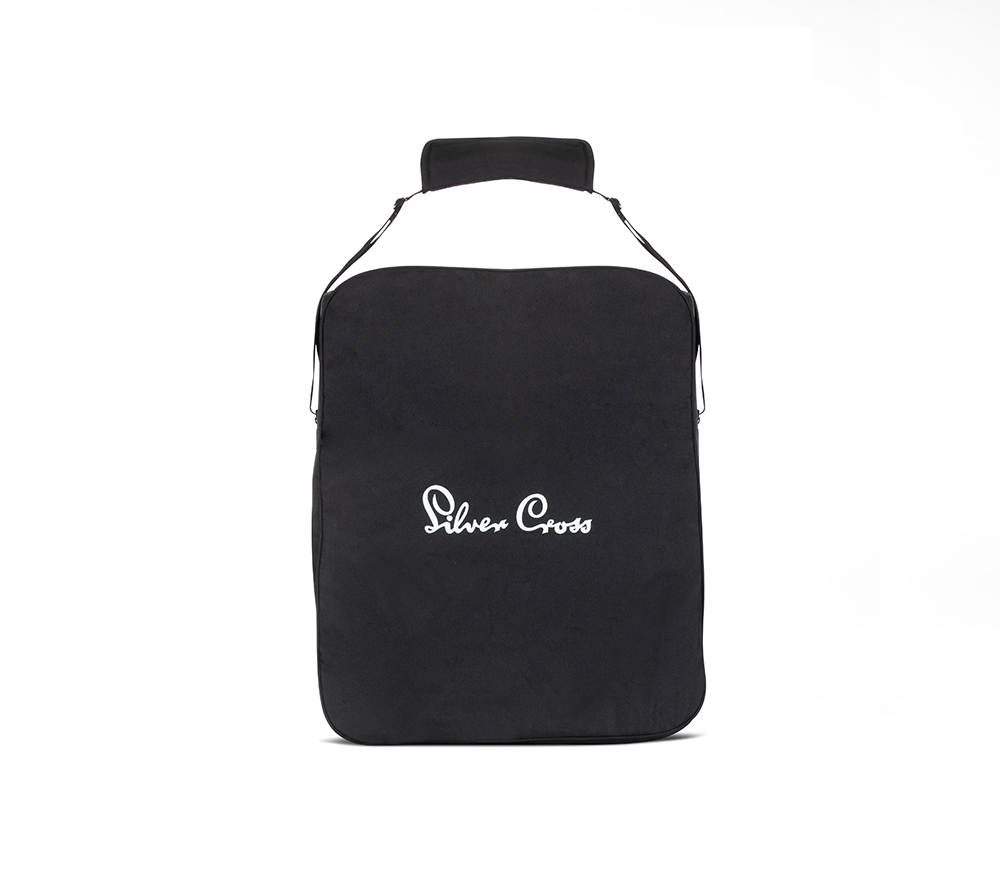 Clic Travel Bag
$99.95
$69.97
Keep your Clic safe with the stroller bag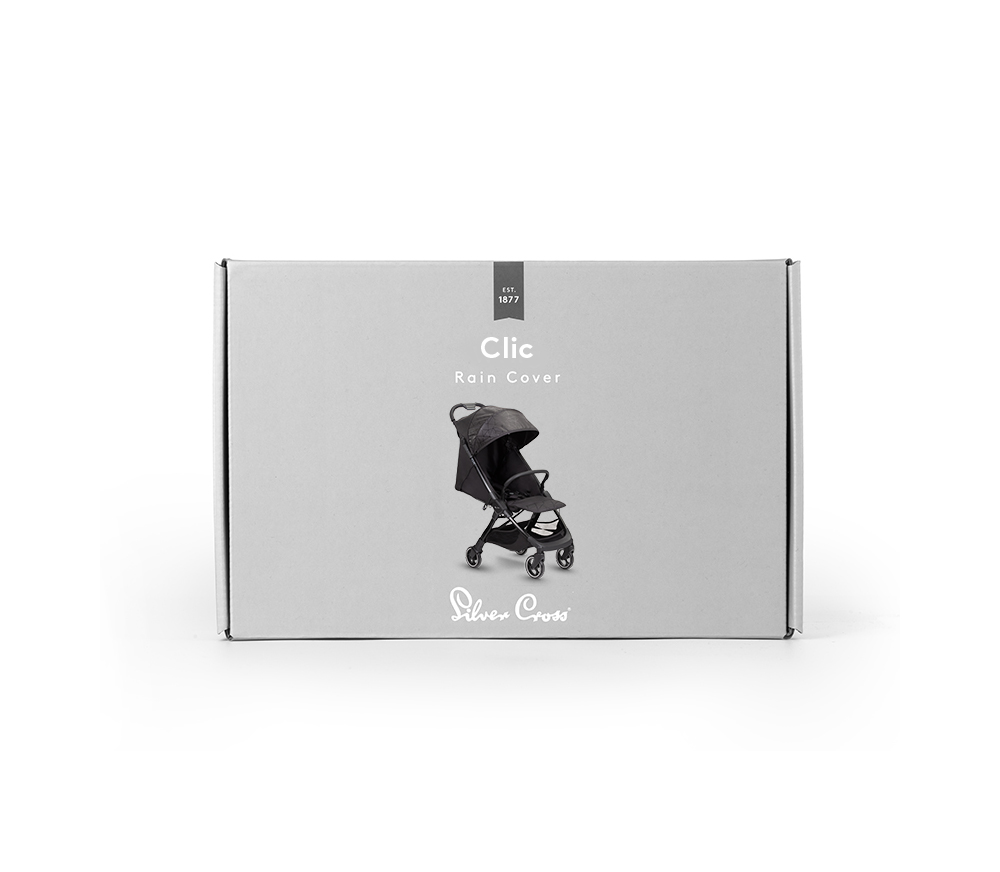 Clic Rain Cover
$79.95
$55.97
Protect your baby from the elements
Clic Black (2022)
Suitable from newborn to toddler, Clic is the essential, everyday stroller that's packed full of practical features to make your daily strolls a walk in the park. Featuring a simple, one-second fold, built-in shoulder strap and one-hand reclinable seat, Clic is perfect for parents and babies.
Key Features:
Suitable from birth to 22kg (approx. 4 years)
Folds with one hand for quick and easy storage
Pull-out shoulder strap for life on the go
Full lie-flat seat with one-handed recline
Cushioned leatherette bumper bar
5kg under-seat basket
One-touch brake system
Super lightweight 5.9kg
Clic
The one-handed, one-second fold transforms your Clic pushchair into a compact, portable, travel friendly stroller, small enough to take on-board an aircraft. Lightweight and simple-to-use, strollers don't come much easier than Clic.
The pop-out shoulder strap makes Clic the perfect partner for strolls with a toddler. When they're ready to get out and explore, simply pull out the shoulder strap and sling Clic over your shoulder. Ideal for travelling in the city or popping in the car, the shoulder strap stores away inside the seat when the stroller is unfolded.
The full lie-flat, reclinable seat means Clic can be used from birth up to 22kg (approx. 4 years). The simple one-handed, drawstring recline means you can find the most comfortable positions for naps on the go and an adjustable footrest offers extra comfort for growing legs.
The Clic pushchair features a unique quilted seat design and 5-point safety harness with co-ordinated chest and harness pads. A soft-cushioned leatherette bumper bar protects your little one from bumps in the road, while the UPF 50+ hood, sun visor and ventilation panel keeps them cool on warmer strolls.
Features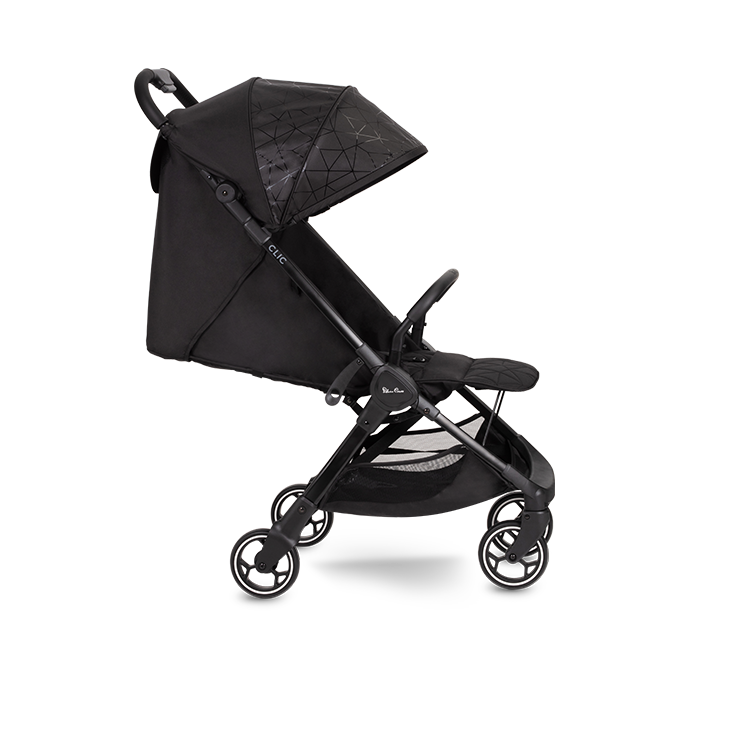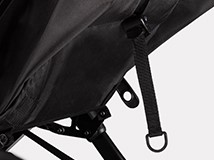 One-handed drawstring recline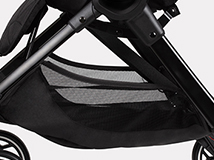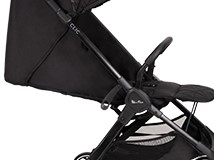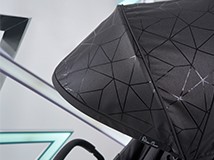 UPF50+ hood and sun visor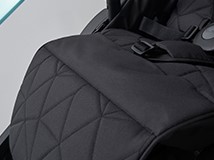 Newborn approved
Full lie-flat seat
One-handed drawstring recline
Adjustable calf support
5-point safety harness
UPF50+ hood and sun visor
Dimensions
L82cm x W46.5cm x H105cm
Folded Dimensions
L54cm x W46.5cm x H25cm
What's Included
The Clic pushchair features quilted seat fabrics, metallic hood design and black chassis.
The pull-out shoulder strap stores within the seat and includes a cushioned shoulder pad for extra comfort.
UPF50+ hood and sun visor
The UPF 50+ hood features a unique metallic print and the pop-out sun visor comes in co-ordinated fabric.
The cushioned leatherette bumper bar is finished with an debossed Silver Cross logo.
The 5-point safety harness comes with co-ordinated chest and harness pads for greater baby comfort.
The adjustable calf-support is easy to use and offers added comfort for naps on the go.
The 5kg basket capacity means it's great for all your strolling essentials.
Great Travel Pram
We just bought a Clic for a trip to New Zealand. It was so handy for the airport and fit in the overhead cabin perfectly. Our daughter seems to like it and doesn't have any issues with the seat position that others have commented about. She slept really well in the horizontal position which was great at the airport. I've started to use it as my normal pram. I agree you wouldn't/can't do a big shop with it, but it is so convenient for short trips to the shops and popping it up and down quickly, it really is so so easy and light.